About Sermeq Helicopters
SERMEQ HELICOPTERS
Sermeq Helicopters is a helicopter charter company based in
We are committed to provide a wide range of reliable, safe and professional helicopter services
and are aiming to be the first choice when it comes to discovering Greenland's south by helicopter.
About Sermeq Helicopters
WHAT OUR CUSTOMERS SAY ABOUT US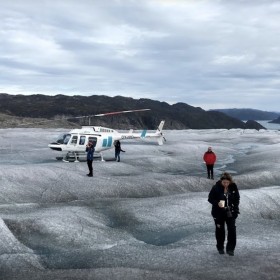 We did the Glacier tour and it was wonderful. Pilu gave us a safe trip there and back over the wonderful landscape. The highlight were the flight in front of the glacier and than landing on top of it. Here we had the possibility to go out and even drink the fresh glacier water. This flight was the highlight of our short Greenland trip.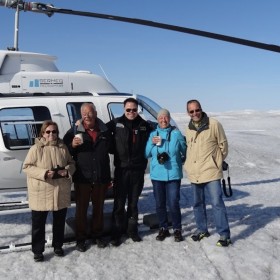 We (4 Austrians) have made this tour by very best weather, Pilu is an excellent Pilot. Wonderful landscape. The contact with Pilu was always very quick and competent, always friendly and nice. Everybody, who comes to Qaqortoq, should make this flight! Thank you for this wonderful time! It was one of five highlight in my 70 years life! I would like to give more stars, but it is not possible. A great adventure! We pay in Qaqortoq with card, very quick and easy, no problems.
The tour itself exceeded all superlatives. We started at the ice cap. Seeing it from above and then landing on it was without doubt the most profound experience I have ever had travelling (and I'm well-traveled). Spectacular, breathtaking, amazing. The trips on the helicopter itself cannot be overlooked. Probably nearly an hour of flight (combining the legs) of spectacular views of fjords, ice sheets, glaciers, ice bergs, inlets, steep mountains carved valleys, and the beauty that is Greenland. For me, it was a 2 hour trip that I will remember forever. I cannot think of a better return on the money.
Eager! I haven't taken a flight yet but read a report from folks that have. I called them to book a flight when I arrive on a cruise ship. The response was terrific, and very friendly. I VERY eager to get there now. I've taken other helicopter tours in New Zealand and Hawaii. It's the only way to see the area.
It would be unfair to write any further information. But I will when we've landed!!!!!!