This amazing trip takes you flying through the various landscapes of southern Greenland where you'll get a birds-eye view of fiords, icebergs, local fishermen, farms and small villages to see the characteristic and the special geography for yourself.
Eventually, we'll reach an area with several calving glaciers in Qalerallit, where you'll get a front row view of a massive ice wall that periodically calves huge ice chunks to the sea. The view both from the air and the ground also gives you a unique and unmistakable depiction of how the glaciers are doing, where you can see for yourself how far out the fiord the glacier reached just years and decades ago.
We'll land directly on the glacier, where you can enjoy walking on the biggest ice cap in the northern hemisphere and have a drink of pristine, ancient water and ice cubes you chip out directly from the glacier.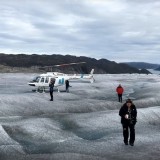 We did the Glacier tour and it was wonderful. Pilu gave us a safe trip there and back over the wonderful landscape. The highlight were the flight in front of the glacier and than landing on top of it. Here we had the possibility to go out and even drink the fresh glacier water. This flight was the highlight of our short Greenland trip.
Thomas Epple
Google Review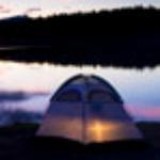 Spectacular tour and Exceptional Service
September 16, 2019
We booked them independently when we came on August 28, 2019 on the Caribbean Princess. When no one (at Princess or other local operators) wouldn't answer my emails, Sermeq always did, and usually within an hour of mine being sent, including prompt Monday morning responses to weekend emails. Pilu was amazing, and quoted us a very reasonable price for a helicopter tour for the two places we asked for (Hvalsey and ice cap). When other vendors left us hanging, Pilu always replied and that was always appreciated. The tour itself exceeded all superlatives. We started at the ice cap. Seeing it from above and then landing on it was without doubt the most profound experience I have ever had travelling (and I'm well-traveled). Spectacular breathtaking, amazing. Hvalsey was really neat as well, and a nice experience to think about the mysteries of the Vikings (Norse). The trips on the helicopter itself cannot be overlooked. Probably nearly an hour of flight (combining the legs) of spectacular views of fjords, ice sheets, glaciers, ice bergs, inlets, steep mountains carved valleys, and the beauty that is Greenland. For me, it was a 2 hour trip that I will remember forever. I cannot think of a better return on the money.
Dawn G.
TripAdvisor
description

Price
4.000 DKK per person



info
Book Now
For your safety and comfort, we require you to buy and occupy what's equal to 1,5 seats if you weigh 115 kg (254 lbs) or more
booking
Travelling on you own? Don't worry! Please contact us to let us know the dates you are available to join a tour and we will do our best to put you on our share list and try to pair you with another group.
You also have the option to pay for the required minimum seats to ensure this flight will be scheduled.
Please mention if you have specific time you would prefer to fly with us in the booking comments.